---
Welcome to CLINICCAI
Clinical Translation of Medical Image Computing and Computer Assisted Interventions
Dear Colleagues,
It is a great pleasure to invite you to the third edition of CLINICCAI, a MICCAI event dedicated to healthcare practitioners willing to discuss their research on the translational and clinical aspects of medical image computing, computer-assisted interventions, and medical robotics.
The Medical Image Computing and Computer Assisted Intervention Society (the MICCAI Society) is a leading community of biomedical scientists, engineers, and clinicians working on advances in the methodology and applications of these fields since 1998. Recent methodological improvements and new clinical applications enabled by breakthroughs in medical imaging, deep learning and other AI techniques motivated MICCAI to create a clinical day to reinforce its clinical ties and explore further how to generate value for patients and healthcare systems.
The third edition of CLINICCAI will be a fantastic opportunity for healthcare practitioners to share their translational research experiences, discuss needs with biomedical researchers with diverse backgrounds, network and become active members of the growing MICCAI community. The event will take place in parallel to MICCAI 2023, allowing participants to explore and get inspired by the other scientific sessions, workshops and social happenings of the biomedical conference.
MICCAI will take place from October 8th to 12th, 2023, at the Vancouver Convention Centre, Canada, and CLINICCAI will be held on October 10th. This will be the first time that CLINICCAI will be hosted in America.
Works to be presented will be selected based on an abstract submission evaluated by an international committee of physicians actively working in the field of clinical translation.
We look forward to welcoming you at CLINICCAI!
---
CLINICCAI 2023 PROGRAM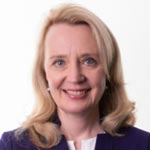 Gretchen Purcell Jackson, MD PhD FACS FACMI FAMIA
Gretchen Purcell Jackson, MD, PhD, FACS, FAMCI, FAMIA is Vice President and Scientific Medical Officer at Intuitive Surgical and an Associate Professor of Surgery, Pediatrics, and Biomedical Informatics at the Vanderbilt University Medical Center. She is President and Chair of the Board of Directors for the American Medical Informatics Association (AMIA) and an elected fellow of the American College of Medical Informatics (ACMI). Dr. Jackson is board certified in general, pediatric surgery, and clinical informatics. Her research interests are consumer health informatics and evaluation of artificial intelligence and other digital solutions for healthcare.
Accepted Abstracts
Title
First Author

Title

Validation of machine learning models for estimation of left ventricular ejection fraction on point-of-care ultrasound: Insights on features that impact performance

First Author

Christina Luong

Title

A Comparison of Recognition Performance for Key Anatomical Structures between Artificial Intelligence and Surgeons in Laparoscopic Colorectal Surgery: A Prospective Observational Study

First Author

Daichi Kitaguchi

Title

Transformer-Based Image Synthesis for Radiation Dose Reduction in Multi-Phase CT Imaging of the Kidneys

First Author

Andrew L Wentland

Title

H&E 2.0: deep learning-enabled identification of tumor-specific CD39+CD8+ T cells in marker-free images for predicting immunotherapy response

First Author

Willa Yim

Title

Automated Brain Tumor Subregion Segmentation on Multi-Parametric MRI Sequences of Pediatric Brain Tumors Across Multiple Institutions and Histologies

First Author

Ali Nabavizadeh

Title

HE2.0 web server: an image database supports interactive visualization towards AI-empowered pathology training

First Author

Mai Chan Lau

Title

Deep learning-based segmentation of coronary arteries in x-ray coronary angiography

First Author

Mitchel Molenaar

Title

Improving Augmented Reality Surgery through first-in-human real time AI-powered instrument segmentation

First Author

Pieter De Backer

Title

Computer aided detection system for Barrett's neoplasia improves endoscopic detection by general endoscopists: an ex-vivo benchmarking study.

First Author

Martijn Jong

Title

Prediction of hematoma expansion in acute intracerebral hemorrhage using a multimodal neural network model

First Author

Dietmar Frey

Title

Surgical Team: Measuring the Shared Cognition and Performance

First Author

Bin Zheng

Title

Deep Multimodal Fusion for Classification of Surgical Feedback Components in Robot-Assisted Surgery

First Author

Rafal D Kocielnik

Title

Validation Study of an AI Support System for Intraoperative Recognition of Anatomical Structures in Laparoscopic/Robot-assisted Hysterectomy

First Author

Nobuyoshi Takeshita

Title

Deep Learning-based mutation Assessment for Reliable dermato-ONcology (DARON)

First Author

Pierre Le Noac'h

Title

Sarcopenia and Hypoalbuminia are associated with decreased overall survival after Nephrectomy and IVC Thrombectomy for renal cell carcinoma

First Author

Andrew Wood

Title

The SAGES Critical View of Safety Challenge - Infrastructure of a Biomedical Data Challenge from the Perspective of a Clinical Society

First Author

Jennifer Eckhoff

Title

Robot-Assisted SEEG Electrode Placement for Epilepsy in Pediatric Patients: Workflow Comparison between Frame-Based and Frameless approaches

First Author

Sandrine de Ribaupierre

Title

Diagnosis of Pulmonary Emboli in Low Resource Settings with Rapid Serial Radiographs and IV Contrast Dual-Subtraction Radiography

First Author

Philip Edgcumbe

Title

Feasibility of Ultrasound Screening for Hip Dysplasia in Primary Care Clinics Using AI

First Author

Jacob Jaremko

Title

Automated Segmentation of the Humeral Cortex and Subacromial Bursa with Rotator Cuff Tear Detection on Shoulder Ultrasound Using Deep Learning

First Author

Jacob Jaremko

Title

Using Deep Learning to Assess Teamwork During Cardiac Surgery

First Author

Mahdi (Elias) Ebnali
---
TOPICS OF INTEREST
Topics of interest to CLINICCAI include, but are not limited to:
Digital patient and pathology
Computer aided diagnosis
Predictive modelling of risks, diseases and patients' outcomes
Advanced preoperative planning and surgical guidance
Image-guided interventions
Immersive technologies in surgery (mixed, augmented and virtual reality)
Technologies to enhance patient safety and quality improvement
Video-based assessment of surgical procedures
Clinical decision support systems
Automated skill assessment
Big data analytics in healthcare
Ergonomics and human factors in surgery
Team dynamics assessment
Surgical data science
Medical education and training using technology
Digital surgery
Healthcare robotics
Virtual reality simulators
Surgical coaching
Serious gaming for training
Hospital and OR management systems
Device and strategies for OR translation
Personalized medicine and precision healthcare
Health information technology interoperability
---
IMPORTANT DATES
Call for abstracts

March 24, 2023

Abstract submission deadline

23:59 PST, June 12, 2023

Notification

23:59 PST, July 14, 2023

Camera ready abstracts

23:59 PST, September 1, 2023

CLINICCAI conference

October 10, 2023
---
COMMITTEE
Program Chairs
Daniel A. Hashimoto, MD MS

University of Pennsylvania, Philadelphia, PA, USA

Juan Manuel Verde, MD

Institute of Image-Guided Surgery, IHU Strasbourg, France

Mariam Aboian, MD PhD

Yale University, New Haven, USA

Sandrine de Ribaupierre, MD FRCSC

Western University, London, Ontario, Canada

Philip Edgcumbe, MD PhD

University of British Columbia

Joël Lavanchy, MD

Clarunis, University Center for Gastrointestinal and Liver Diseases, Basel, Switzerland

Nicolas Padoy, PhD

University of Strasbourg & Institute of Image-Guided Surgery, IHU Strasbourg, France

Joe Yeong, MD

Singapore General Hospital, IMCB, A*STAR, Singapore
Program Committee
Maria Altieri, MD
Luca Boldrini, MD
Jason Chan, MD
Pieter de Backer, MD
Daniel Donoho, MD
Simone Famularo, MD
Jurgen Futterer, MD PhD
Fiona Kolbinger, MD
Mai Chan Lau, MD
Amin Madani, MD PhD
Pietro Mascagni, MD PhD
Barbara Seeliger, MD PhD
Vivek Singh
Tiffany So, MD
Julian Varas, MD
Inti Zlobec, PhD
---
---
CLINICCAI 2023 is grateful for the support of its sponsors: